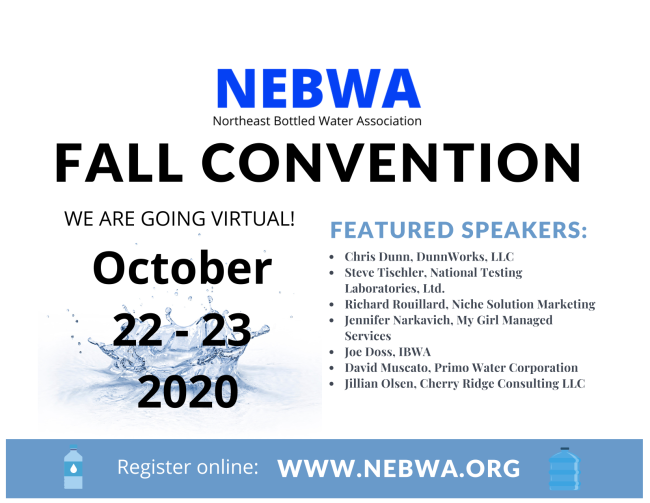 2020 VIRTUAL NEBWA FALL CONVENTION
SAVE THE DATES
OCTOBER 22 & 23, 2020
for the Virtual NEBWA Convention
The Board of Directors has decided to not hold an in-person Fall Convention in 2020. We value the safety of all of our members and their families during this time of uncertainty regarding travel and in-person gatherings during the COVID-19 pandemic.
The Board of Directors would like to thank everyone that attended. If you missed out, click here.
Once you watch each video please reach email[email protected] to receive CEU certification.
SPEAKERS FOR THE VIRTUAL MEETINGS
Chris Dunn
Remote Audits using first hand information from clients Organizing the Food Safety Notebooks
Ozone: FDA & OSHA regulations/monitoring
Steve Tischler
PFAS Updates, Testing and
Regulations Basic Economics/Consumer Behavior
Jillian Olsen
Sampling Techniques
Joe Doss, IBWA
Industry Updates
Richard Rouillard
Small Business Exit Plan: Part 2 How to Prepare
David Muscato
The New Primo Water Company.
Transitioning to a Pure Play Water Company
Jennifer Narkavich
Using Google My Business &
Social Media to Power Your Business
CEU'S WILL BE ISSUED FOR QUALIFIED SEMINARS
There will also be an opportunity for suppliers to present & chat with members regarding their products.