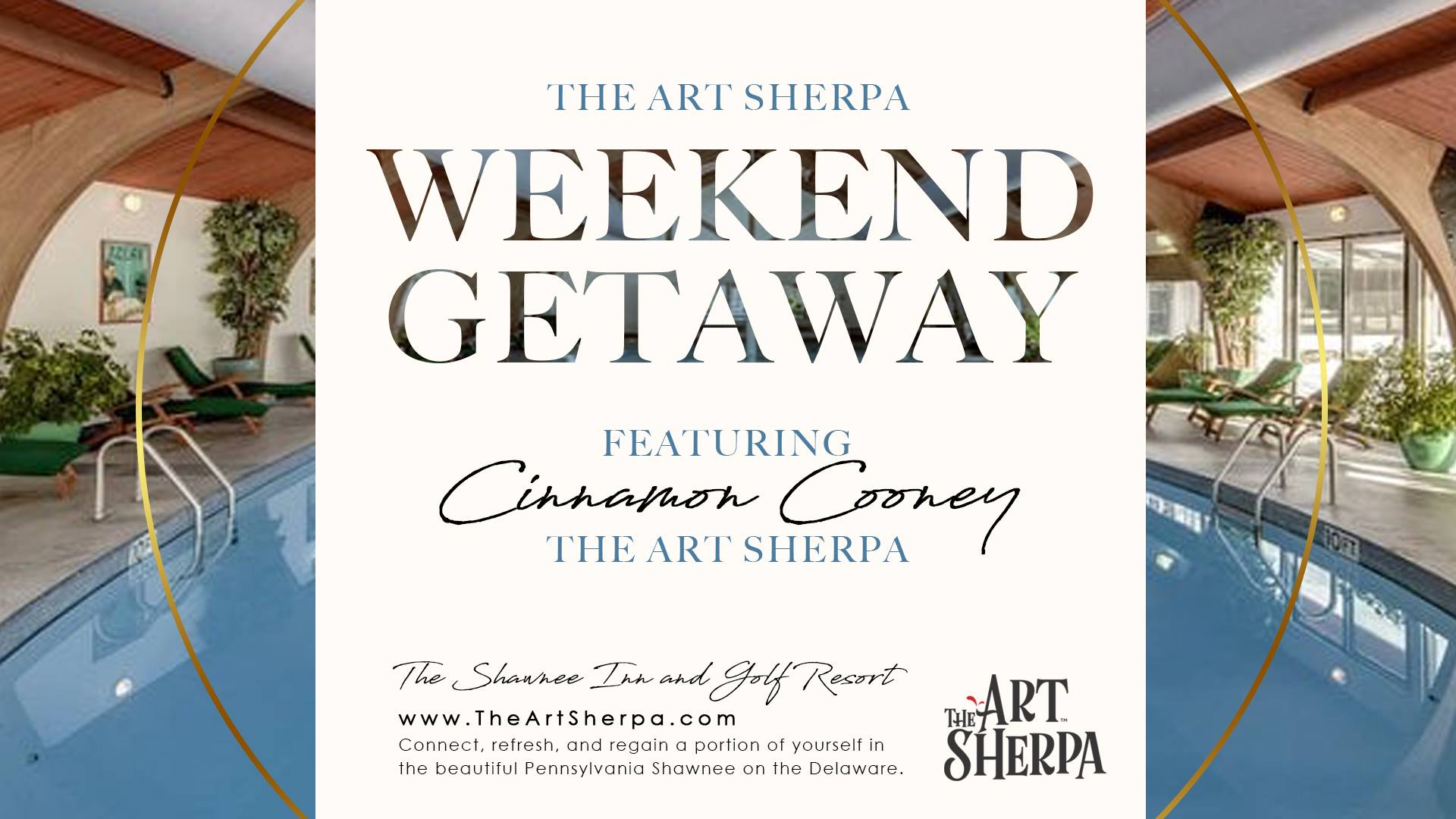 Summertime Weekend Sherpa Getaways
https://theartsherpa.com/the_art_sherpa_retreat_june_2021
Cinnamon Cooney, your Art Sherpa, is ready to meet you at her easel. We will be gathering in small groups during two unique weekends to reconnect, reset and refresh ourselves and paint along the beauty surrounding the Delaware River. We will be staying at The Shawnee Inn and Golf Resort in beautiful Eastern Pennsylvania. We will also relax and connect around great meals there. Our gathering spot for painting will be found at The Shawnee Art Shed, a local art spot that is within walking distance. Weather permitting we will be able to paint outside and enjoy The Sherpas lead through two days of painting and comradery. Join us for a fun filled and relaxing adventure with The Art Sherpa, other artists and Sherpettes. A good time is sure to be had by all.
Your getaway weekend begins on Thursday evening June 17, 20121 or July 2, 20121 when we will pick you up at the Wilkes-Barre Airport and whisk you away to the Shawnee Inn and Golf Resort. Be sure to pack only what you need because all of your art supplies are included. That evening will be a time for you to rest up and get ready for three days of Art Sherpa goodness at the Shawnee Art Shed, a local paint studio.
Friday and Saturday will begin with breakfast at 7:30am sharp with Cinnamon Cooney in
the main restaurant of the Inn.
• We will hit the canvases at 9am at The Shawnee Art Shed, which is within walking distance
of the Inn.
• Lunch will be served at 12:30pm outside (weather permitting).
• We will continue painting at The Art Shed until we return to the Inn to get ready for dinner.
• Dinner is in the main dining room of the Inn on Friday and Saturday evening.
• Sunday brunch will be at 9am and consist of two hours of painting conversation and
trading painting secrets.
• We will return you to the Wilkes-Barre airport by 1pm on Sunday so plan your return
flight accordingly.
• Be sure to check the weather forecast for the Scranton Pennsylvania area
before you decide what clothes to bring. Temperatures can vary.
.
• Please remember to think about purchasing travel and vacation insurance as
tickets are not refundable.
Please note that The Art Sherpa, LLC will be following all current CDC recommendations for controlling Covid 19. We anticipate the need for testing as you travel so plan accordingly so we are all safe and healthy. For International travelers please check your local regulations.
Can't wait to see you in person!
Cinnamon Cooney, Your Art Sherpa
https://theartsherpa.com/the_art_sherpa_retreat_june_2021
The Shawnee Inn and Golf Resort
100 Shawnee Inn Drive (Physical) | P.O. Box 67 (Mailing)
Shawnee on Delaware, Pennsylvania 18356
1-800-SHAWNEE (742-9633) | Fax 570-424-9168
570-424-4050 ext. 1401
[email protected] | ShawneeInn.com
Shawnee Art Shed, LLC
107 Shawnee Square, Building H
PO Box 5
Shawnee on Delaware, Pa 18356
570-234-0748
www.shawneeartshed.com